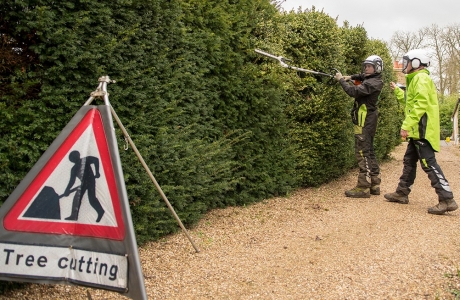 Handheld Hedge Trimmer are effective. Flexible and versatile pieces of equipment. This course is designed for beginners to novice users to learn all the basics. Walk away from this course with newfound skill and knowledge to use in practice.
Number of candidates per course: 6
During in this course, you will cover:
· correctly carry out all routine maintenance in accordance with the machine manufacturer's information
· start the hedge trimmer from both hot and cold start in a safe manner
· state the possible hazards/risks when carrying out maintenance or operational tasks
· operate the hedge trimmer in a safe manner, having regard for the safety of the public, property, and environmental factors
· organise the site and use a systematic method of working where possible
· And much more
After finishing this course, you would receive a Certificate and Skill Card.
Hand Held Hedge Trimmer
Islip Training Centre
21st July 2022
You will need to bring:
· A form of photo ID either valid driving licence or passport.

· Arborist Helmet, complete with full mesh face shield and visor also ear defenders conform to 31SNR rating

· Steel Toe Cap Boots or Chainsaw Boots

· Non snag Clothing suitable for all weather as you will be outside

· Work Gloves

We recommend bringing your own Hedge Cutter and equipment along, if possible. This will give the best possible experience.

Important Information:
Equipment required and information related to lunches will be sent to the booker by email 7 days before the course is to begin or as soon as possible if within 7 days.
Your email will contain directions to the course site, will specify if lunch is provided and any dietary requirements, and the equipment that may be required.
Your booking confirmation email only serves to confirm your booking and payment and the date and timings of your course. If you have any questions, please do not hesitate to get in touch with our team.
VENUE: Course held at a Northamptonshire venue. Venue's may vary and as such we will confirm the exact details and location upon receiving your booking and in advance of the event. We will contact the Booker with the venue details and any further details such as arrival information.