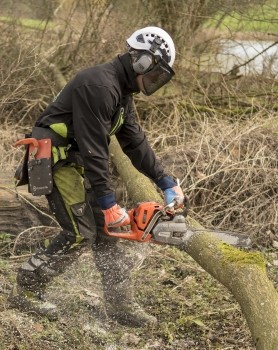 Level 2 Award in Chainsaw Maintenance, Cross Cutting, Felling and Processing Trees (up to 380mm) Refresher Course
This Lantra accredited course is developed to refresh your skills and update on the industries best practise including any updates that have taken place since completing your qualification. Walk away from this course with an improved knowledge and refreshed skills.
There are 2 dedicated days for training Number of candidates per course: 4
During in this course, you will cover:
Updated Health and Safety practises

Updated PPE needs

Refreshed cross-cutting techniques

Refreshed knowledge on maintenance of a Chainsaw

Refresh Felling

And much more



This is a refresher course for those that have already received a Level 2 Award in Chainsaw Maintenance and Cross-cutting & Level 2 Award in Felling and Processing Trees up to 380mm as such proof of initial qualification will be required. It is recommended to refresh every 5 years.
Level 2 Award in Chainsaw Maintenance, Cross Cutting, Felling and Processing Trees (up to 380mm) Refresher Course
Islip Training Centre
17th January 2024
You will need to bring:
A form of photo ID either valid driving licence or passport
Non snag clothing suitable for all weather as you will be outside

Chainsaw trousers with a minimum of Class 1 protection and a minimum of Type A coverage

Arborist helmet complete with full mesh face shield and visor and ear defenders conforming to 31SNR rating

Thin gloves for machine maintenance. Preferably a Nitrile Rubber Palm grip.

Chainsaw gloves with a minimum of Class 0 protection

Chainsaw boot
Personal First Aid Kit
Whistle
We recommend bringing your own chainsaw and maintenance kit for the best possible experience but this is not essential.
Important Information:
For all Refresher courses you will need to provide a copy of the original qualification certificate before you can take part on the day.
Joining instructions will be sent around 7-14 days before the course starts and will contain full details of location, equipptment etc. Please note that lunch is not provided.
Courses offered may have pre-requisite qualifications. Please check individual course requirements on our website www.vmtltd.net for further details. Pre requisites will be listed under individual course requirements and it is the responsibility of the booker to check that all attendees have the necessary qualifications.
Your booking confirmation email only serves to confirm your booking and payment and the date and timings of your course. If you have any questions, please do not hesitate to get in touch with our team.
VENUE: Course held at both our Islip and Boughton House venues.