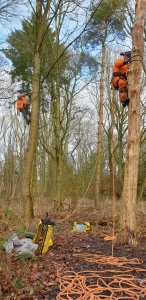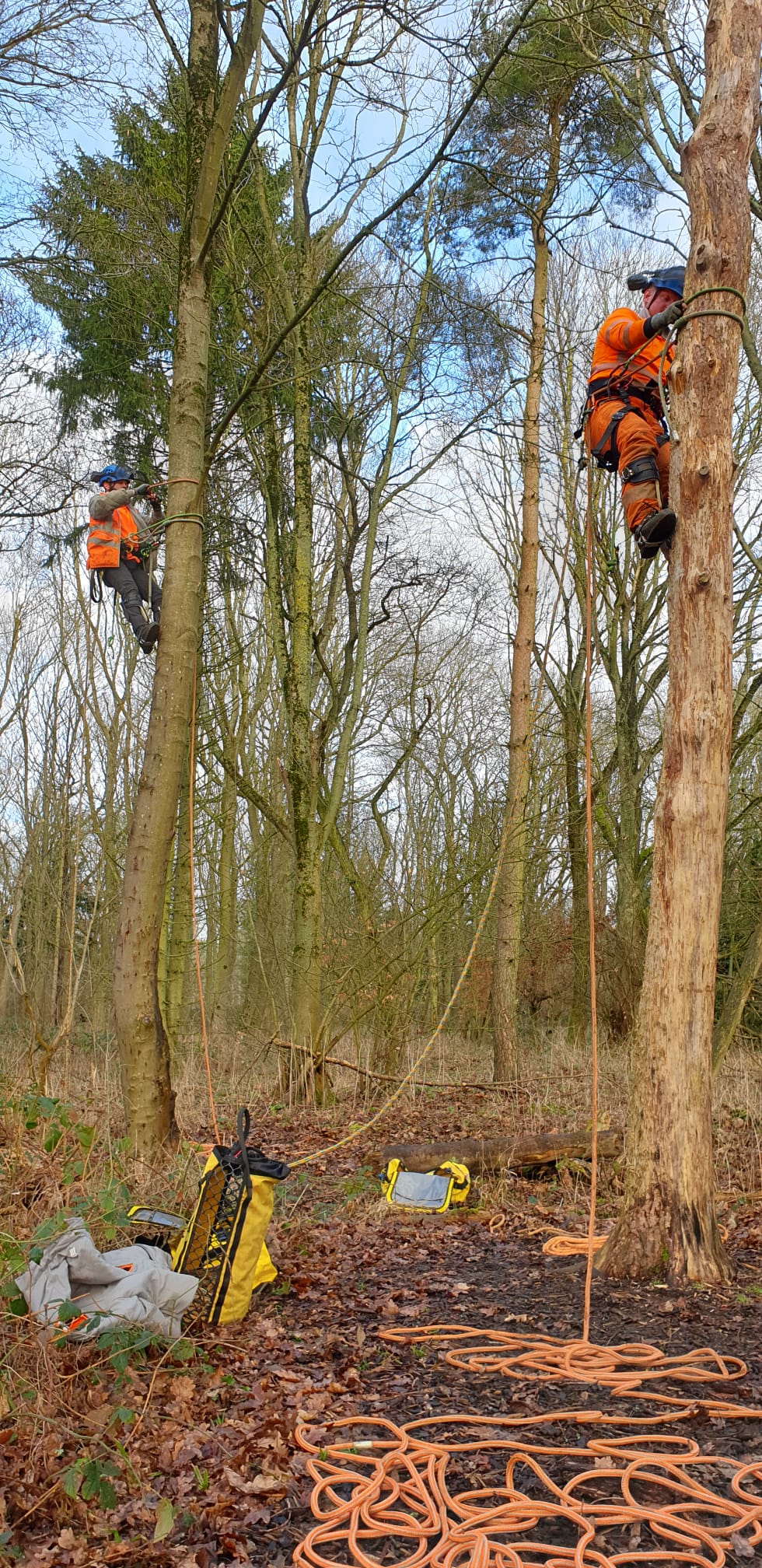 Arboriculture is a skilled profession and as such requires planned progression and development opportunities in order to gain the wide range of knowledge to assess and plan for a dismantle that may include the need for climbing, rigging or the use of a MEWP. Here at VMT we pride ourselves on ensuring that our clients have the knowledge across a broad spectrum and offer our courses accordingly and love seeing them as they return with their skills embedded, ready for the next step.
So what route should you be looking at to progress through to our more advanced chainsaw in a tree courses?
In the beginning…
A Level 2 Award Chainsaw Maintenance and Cross Cutting allows the client to get to know how to use and maintain their saw and undertake ground based chainsaw work. We then move on to the Lantra Level 2 Award in Felling and Processing Trees up to 380mm. Learning how to stay safe and control the fall of a tree through safe positioning and accurate cutting is key to ensuring a safe working environment. Real life skills such as moving fallen trees and processing the wood leave a tidy worksite ready to give back to the client. Obviously, it is essential that the candidate has a good understanding of First Aid with a focus on catastrophic bleeds and crush injuries, all covered in our Emergency First Aid at Work + Forestry. Tidying up may require the use of a Winch or a Woodchipper and remember pruning can take place with a Powered Pole Saw.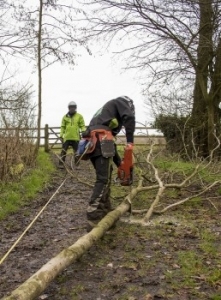 Gaining experience…
We actively encourage clients to take time to practice their new found skills before moving on with courses such as the Basic Tree Survey and Inspection, allowing candidates to understand the risk factors when assessing trees and their surrounding worksites.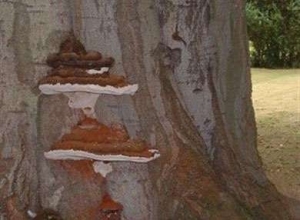 Next Steps…
At this point some of our candidates then feel that they would like to launch themselves into tree climbing. We offer a one day Introduction to Climbing for those who would like to dip their toe in the water before committing to the full to Level 2 Award in Accessing a Tree Using a Rope and Harness + Level 3 Award in Aerial Tree Rescue Operations which can be combined or done separately. As with all of our courses you'll learn about the HSE legislation and guidelines as well as the tree climbing equipment that you'll need to use, how to inspect a tree visually to make sure it is safe to climb and different rope configurations. You'll learn access techniques and work positioning principles, final anchor point and work positioning techniques, using a flip-line and climbing irons, and how to store your equipment. Climbing in itself is a skill and a good level of competency is required before candidates are encouraged to think about wielding a chainsaw at height.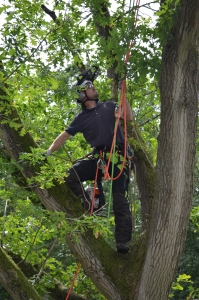 Nearly There…
At this point the candidate is finally ready to undertake Lantra Awards Level 3 Award In Aerial Cutting of Trees with a Chainsaw Using Free-fall Techniques where they can hone their knowledge of tree structure to learn how to choose the safest load bearing anchor points, the different ways to send the chainsaw aloft to the climber, the use of sewn tape seams, different cutting techniques, positioning for working in a tree, removing limbs using handheld and free fall techniques and targeted pruning.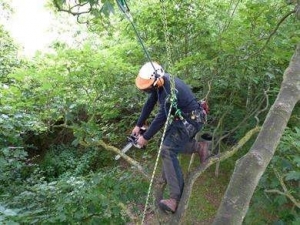 Is this it? Of course not – this is where our experienced and skills arborists start to extend their skills with Rigging, Mobile Elevated Work Platforms, Tree Pruning and more. Don't forget that legislation, technology and Health and Safety recommendations change and so refreshers every 5 years (for regular users) or 3 years (for occasional users) are essential for up to date knowledge and to knock bad habits out.
Of course climbing is not for everyone and there are other options for those not wishing to spend their time up in the trees and many of our arborists have both ground based and climbing skills sets. If you want pathways to felling large trees or dealing with windblown and severed trees see our Ground Based Treeworks Career Path.
For more information from the HSE regarding chainsaw use, training and aerial arboriculture, please follow the links below:
HSE guidance for working with chainsaws
https://www.hse.gov.uk/treework/safety-topics/aerial-work.htm
https://www.lantra.co.uk/news/chainsaw-training-what-you-need-know