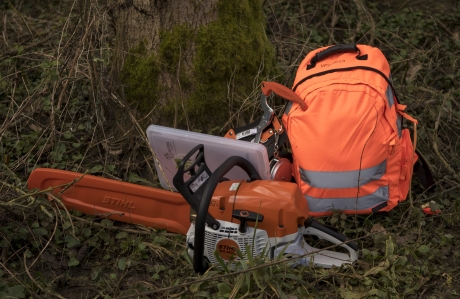 Level 2 Award In Chainsaw Maintenance and Cross-cutting
The Chainsaw is one of the most useful, powerful and dangerous tools used across a range of industries. This course is designed for beginners and novices to gain or build their skills, knowledge, and confidence. Walk away from this Lantra accredited course with the ability to successfully maintain and safely use this powerful tool.
There are 2 dedicated days for Training and 1 day for Assessment. Number of candidates per course: 4
During in this course, you will cover:
Identify required health and safety features on a chainsaw

Start the chainsaw from both cold and hot in a safe manner

State the possible hazards/risks when carrying out maintenance or operational tasks

Identify faults and defects on a chainsaw and decide which you can sort yourself and which will need the help of a service engineer

Cross-cut timber accurately to required lengths

Handle and stack timber in a safe manner.

And much more
Units covered in qualification:
Chainsaw Maintenance

Cross-cut Timber using a Chainsaw
Upon succesfully completing this course and assessment you will receive a Qualification with a Certificate and Skill Card.
Worth noting: As there are physical elements to our course, you'll need to have at least a minimum level of fitness
Level 2 Award In Chainsaw Maintenance and Cross-cutting
Islip Training Centre
30th October 2023
Level 2 Award In Chainsaw Maintenance and Cross-cutting
Islip Training Centre
13th November 2023
You will need to bring:
A form of photo ID either valid driving licence or passport

Non snag clothing suitable for all weather as you will be outside

Arborist helmet complete with full mesh face shield and visor and ear defenders conforming to

31SNR rating

Chainsaw trousers with a minimum of Class 1 protection and a minimum of Type A coverage

Chainsaw gloves with a minimum of Class 0 protection

Chainsaw Boots with suitable protection levels

Person First Aid Kit

Whistle

We recommend bringing your own Chainsaw, Maintenance Kits and equipment. This will give the best possible experience.
Important Information:
Equipment required and information related to lunches will be sent to the booker by email 14 days before the course is to begin or as soon as possible if within 7 days.
Your email will contain directions to the course site, will specify if lunch is provided and any dietary requirements, and the equipment that may be required.
Your booking confirmation email only serves to confirm your booking and payment and the date and timings of your course. If you have any questions, please do not hesitate to get in touch with our team.
VENUE: Course held at our IslipTraining Venue just outside Kettering, Northamptonshire.