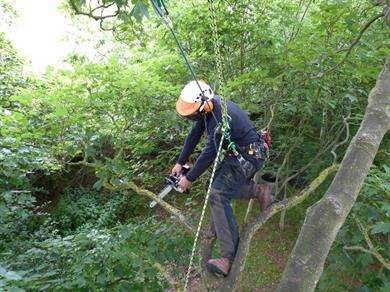 Level 3 Award in Aerial Tree Pruning.
Our course will provide you with the knowledge, skills, and understanding to carry out aerial pruning of a tree through a three day course followed by a one day assessment. It covers the pruning of a tree from either a rope and harness or from a MEWP. Upon successfully completing the assessment element of this course, you will receive a nationally recognised qualification that is registered with Ofqual. Please note that there are prerequisites to this course that are listed below.
This course is designed for candidates who wish to develop their knowledge, understanding and skills with regards to current good working practice when pruning. You will complete a mix of theoretical and practical sessions to learn different types of pruning available and the methods and techniques required to carry them out.
Upon successful completion you will be able to:
Understand your personal duties and responsibilities

State the possible hazards/risks when carrying out maintenance or operational tasks

Produce a site-specific risk assessment for tree pruning operations

State the principles of HSE legislation and safety guidelines relevant to tree pruning

Select the appropriate PPE and state the maintenance requirements

Select the appropriate equipment and state the maintenance requirements

Understand the types of pruning and how, and when, each should be applied

Demonstrate the principles of target pruning and how to apply them

Prepare machinery and equipment for transport and storage

Dispose of arisings appropriately.
You must have the following (or equivalent)qualifications before attending this course:
Level 2 Award in Chainsaw Maintenance and cross cutting

Level 2 Award in Felling and Processing Trees up to 380mm

Level 2 Award in Accessing a Tree Using a Rope and Harness

Level 3 Award in Aerial Tree Rescue Operations

Level 3 Award in Aerial Cutting of Trees Using Free Fall Techniques.
Due to the nature of this qualification a minimum level of fitness would be required for specific operations. Whilst we would not want to disadvantage anybody it is an essential requirement.
Equipment & PPE Requirements:
You will need to bring:
· A form of photo ID either valid driving licence or passport.
· Arborist Helmet, complete with full mesh face shield and visor also ear defenders conform to 31SNR rating
· Chainsaw Boots
· Chainsaw trousers with a minimum of Class 1 protection and a minimum of Type A coverage
· Non snag Clothing suitable for all weather as you will be outside
· Gloves – BS EN 381 – 7
· Personal First Aid Kit
· Whistle
We recommend bringing your own Chainsaw, Maintenance Kit, Pruning Saw and Climbing equipment. This will give the best possible experience.
When bringing your own kit, you will need to show proof of a full and in date LOLER inspection of all equipment to be used.
Level 3 Award in Aerial Tree Pruning.
Northamptonshire
4th December 2023
Full joining instructions confirming the instructor/assessor, location and timings will be issued between 7-14 days before the course.
Please note that lunch is not provided and the course is held in a rural location.
Courses offered may have pre-requisite qualifications. Please check individual course requirements on our website www.vmtltd.net for further details. Pre requisites will be listed under individual course requirements and it is the responsibility of the booker to check that all attendees have the necessary qualifications.
VENUE: Course held at one of our Northamptonshire training sites.