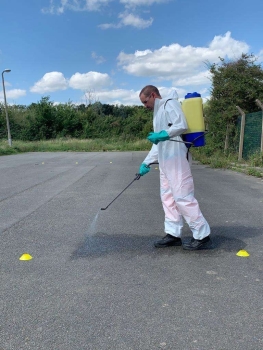 Safe Use of Pesticides and Hand Held Applicators Refresher
This course is developed to refresh your skills and update on the industry best practise including any updates that have taken place since completing your qualification. Walk away from this course with an improved knowledge of the field and refreshed skills.
We allocate 1 dedicated day for training Number of candidates per course: 6
During in this course, you will cover:
Updated Health and Safety Guidance

Updated techniques

Refresh knowledge on Safe Use

Refresh Knowledge on Handheld Applicators
Please Note
This is a refresher course, aimed at those that have already received a Level 2 Award in Safe use of Pesticides & Level 2 Award in Safe Applications of Pesticides using Handheld Equipment
Important Information:
Equipment required and information related to lunches will be sent to the booker by email 14 days before the course is to begin or as soon as possible if within 7 days.
Your email will contain directions to the course site, will specify if lunch is provided and any dietary requirements, and the equipment that may be required.
Your booking confirmation email only serves to confirm your booking and payment and the date and timings of your course. If you have any questions, please do not hesitate to get in touch with our team.
VENUE: Course held at a Northamptonshire venue. Venue's may vary and as such we will confirm the exact details and location upon receiving your booking and in advance of the event. We will contact the Booker with the venue details and any further details such as arrival information.