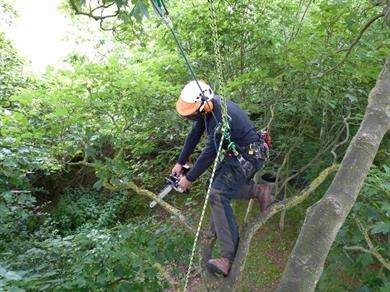 Tree Pruning Refresher (TG1 Update 2020)
We have updated the way that our aerial refresher is delivered so it reflects the changes to best climbing practice as laid out in the new Technical Guide 1: Tree Climbing & Aerial Rescue. This refresher course gives you updated pruning skills and an in-depth knowledge that will give you a greater understanding of any new pruning methods and when these should be applied, this is taught with a mixture of theory and practical training.
Tree pruning is a hugely important management tool for trees to ensure they remain healthy and safe.
Refreshing your skills to perform this task is important to ensure you perform the task safely. This is a hands-on refresher course that delivers both practical skills and health and safety guidance as well as demonstrating that you and your employer have completed sufficient training to meet the Provision and Use of Work Equipment Regulations 1998 (PUWER).
Courses offered may have pre-requisite qualifications. Please check individual course requirements on our website www.vmtltd.net for further details. Pre requisites will be listed under individual course requirements and it is the responsibility of the booker to check that all attendees have the necessary qualifications.
VENUE: Course held at one of our Northamptonshire training sites.