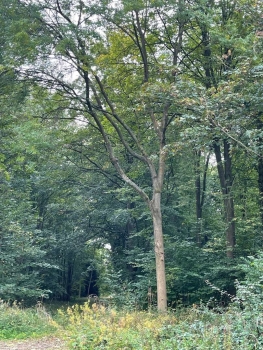 Woodland Management for Conservation Theory
This a 1 day course with an introduction to Woodland Management, there is a second day available to cover practical techniques such as tree planting and tree care and coppicing.
This course will provide you with the basic knowledge of management techniques, allowing you to manage small woodlands for nature conservation. Throughout the course you will be signposted towards further information and organisations.
Course content:
· What is Woodland/Forest

· History of British Woodlands and the Forestry sector (Silviculture, grazed woodlands, pollarding, coppice, ancient woodland ...)

· Woodland layers, structures and biodiversity (Vertical, horizontal, dead wood, boundaries ...)

· Ecological succession (Rock to woodland)

· Importance of woodland indicators (Semi ancient woodland, National Vegetation Classification)

· Various woodland intervention techniques (Thinning, rides, planting, ponds, natural regeneration, creating open spaces...)

· Importance of woodland surveys (Need to know what you already have)

· Management Plans (Objectives and aims for your woodland) Although the last topic, it's the most important part of Woodland Management.
Will cover both theoretical and practical elements. As such candidates should come with
all weather clothing
walking boots