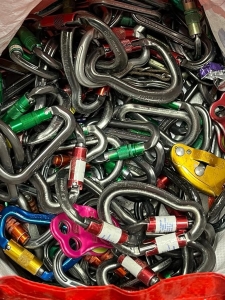 We are pleased to announce that we are now able to offer training and qualification for the Level 4 Award in Thorough Examination of Arboricultural Lifting Equipment through our very own in house instructor, Phill Escritt. With three days of training and 1 day accredited assessment at either our own Islip training Centre or, subject to numbers, the client's own location, Phill is well equipped to develop your knowledge and understanding of the standards needed to be classed as a competent person to carry out LOLER assessments. Small groups (max 4)  give you plenty of time to work through the syllabus in order to understand the requirements of the qualification.
Aimed at those with a comprehensive knowledge of modern arboricultural practice, particularly relating to tree climbing and rigging techniques and the associated equipment used in such operations.  Typically you will come from an arboricultural contracting background, but this also includes  associated roles, providing you have the relevant knowledge and experience of arboricultural equipment and the circumstances in which it is commonly used.
What you can expect to cover:
HSE legislation and safety guidelines
Inspection intervals
Record keeping, traceability, and reporting
Identification
Types of damage and defects
Inspection techniques
Maintenance and repair
Lifespan and disposal of equipment
Glossary of terms & abbreviations
At the end of your course you will be assessed on your ability to
Show understanding of and compliance with legislation pertaining to the examination of arboricultural lifting equipment.
Produce a report of thorough examination.
Show understanding of equipment inspection and fault diagnosis.
Use and understand terminology for the thorough examination of lifting equipment.
Show understanding of lifting equipment configurations.
For more information, please visit the course section of the website https://vmtltd.net/courses/lantra-level-4-award-in-thorough-examination-of-arboricultural-lifting-equipment/#availability, email on info@vmtltd.net or call us on 03330151152.
https://www.lantra.co.uk/course/thorough-examination-arboricultural-lifting-equipment
https://www.lantra.co.uk/course/level-4-award-thorough-examination-arboricultural-lifting-equipment
https://www.hse.gov.uk/work-equipment-machinery/loler.htm