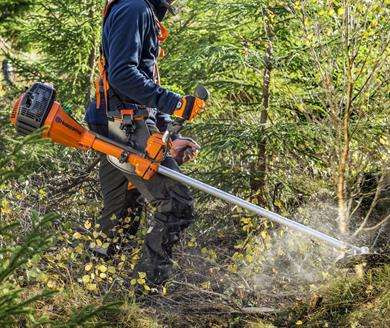 Clearing Saws up to and over 50mm
When a job is too big for a strimmer and too small for a chainsaw there is the clearing saw. These versatile and powerful machines can make light work of plants up to small saplings. Make sure that you are getting the most out of your machine in a safe and efficient manner by taking our clearing saw course.
Clearing saws are used widely across many sectors for clearing overgrown ground cover. Our course is a mix of theory and hands on teaching to ensure that when you have finished you know all that you need to know to start working with these powerful machines.
Our course is an ideal way of demonstrating that you and your employer have completed sufficient training to meet the Provision and Use of Work Equipment Regulations 1998 (PUWER).
You will need to bring:
A form of photo ID either valid driving licence or passport.

Arborist Helmet, complete with full mesh face shield and visor also ear defenders conform to

31SNR rating

Steel Toe Cap Boots or Chainsaw Boots

Non snag Clothing suitable for all weather as you will be outside

Work Gloves

We recommend bringing your own Clearing Saw. This will give the best possible experience.
Important Information:
Joining instructions will be sent around 7-14 days before the course starts and will contain full details of location, equipptment etc. Please note that lunch is not provided.
Courses offered may have pre-requisite qualifications. Please check individual course requirements on our website www.vmtltd.net for further details. Pre requisites will be listed under individual course requirements and it is the responsibility of the booker to check that all attendees have the necessary qualifications. These will be checked on arrival.
Your booking confirmation email only serves to confirm your booking and payment and the date and timings of your course. If you have any questions, please do not hesitate to get in touch with our team.
VENUE: Course held at a Northamptonshire venue. Venue's may vary and as such we will confirm the exact details and location upon receiving your booking and in advance of the event. We will contact the Booker with the venue details and any further details such as arrival information.