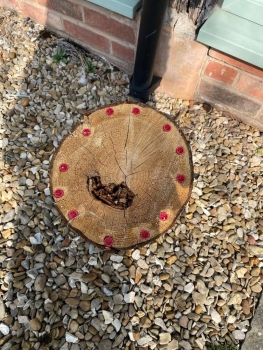 Level 2 Award in the Safe Operation of Pesticide Plug Equipment
This is a bolt on course to our Principles of the Safe Use and Application of Pesticides that allows for safe and effective use of pesticides Plugs.
Used properly pesticides plugs inhibit regrowth from felled trees and sawn bushes. The plug delivery system ensures that the pesticides are administered directly into the stump to prevent regrowth and spread. Taught in conjunction with the Level 2 Award in the Safe us of Pesticides and Level 2 Award in Safe Application of Pesticide using Hand Held Equipment this is a bolt on module to reinforce your knowledge, understanding and ability in the application of pesticides using plug equipment.
Our qualification assesses your knowledge, understanding, and skill in:
The regulations regarding the safe use of pesticides

Pesticide product information

Hazards and risks associated with pesticides

Personal safety when using pesticide plug equipment

The measures to deal with pesticide poisoning

Safe working practices

The requirements for protected areas

Environmental risks and protection of wildlife

How to deal with incidents

Factors to consider when using pesticides with hand held equipment.