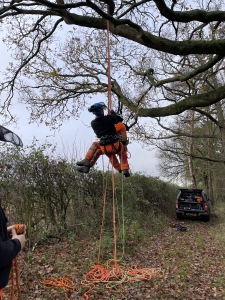 Refreshing this key skill is recommended by the HSE  every 3-5 years. We are pleased to be able to offer both Lantra Accredited Refreshers and in house simulated rescue situation development and practice.  Why provide more regular opportunities? To ensure that all rescue operative are confident in their ability to use the skills that they were taught to safely move a casualty to a place of safety when in a situation that is already incredibly stressful.
The simulated rescue situations can allow teams to work together to complete a rescue within their own groups and with their own kit. Looking at what the team have available to them can help to ensure that the rescue planning on site is effective and that all members understand their role in the rescue – vital for a quick response.
If you'd like to find out more about either the accredited training, refreshers or in house rescue simulations then get in contact with the office.
https://www.instagram.com/p/CnFK3VOAFXC/