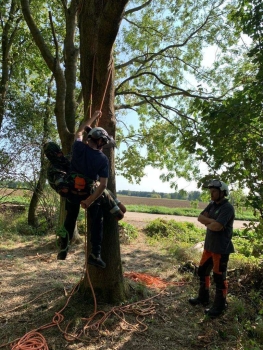 Level 3 Award in Aerial Tree Rescue Operations
Get lifesaving knowledge. This course and assessment is developed for anyone needing to learn how to rescue someone stranded in a tree and already an experienced climber. Walk away with new skills that could be lifesaving.
There is 2 dedicated days for training and 1 day for assessment. Number of candidates per course: 4
During in this course, you will cover:
Aerial Rescue Methods

Identify hazards and manage the associated risks

Aerial Rescue Planning

Visual tree inspection and anchor point

And much more
Units covered in qualification:
Level 3 Award in Aerial Tree Rescue Operations
Before starting this course, you must have already Acquired:
Level 2 Award in Accessing Trees Using a Rope and Harness
After succesfully completing the assessment element of this unit, you will receive a Level 3 Award in Aerial Tree Rescue Operations .
Worth noting: As there are physical elements to our course, you'll need to have at least a minimum level of fitness
You will need to bring:
A form of photo ID either valid driving licence or passport.

Arborist Helmet, complete with full mesh face shield and visor also ear defenders conform to

31SNR rating and a 3 point chin strap.

Chainsaw Boots are preferred or sturdy reinforced climbing boots

Non snag Clothing suitable for all weather as you will be outside

Gloves – BS EN 381-7

We highly recommend

Showa 310

Personal First Aid Kit

whistle

handsaw or knife with retractable blade
We recommend bringing your own Saw and Climbing equipment . This will give the best possible experience. When bringing your own kit, you will need to show proof of a full and in date LOLER inspection of all equipment to be used.
It is recommended the learner holds current Emergency First Aid at Work certification
Please be aware that to take this course, you must be physically fit and not suffering from vertigo or similar conditions.
You must also be free from medication that could affect your safety.
Important Information:
Equipment required and information related to lunches will be sent to the booker by email 14 days before the course is to begin or as soon as possible if within 7 days.
Your email will contain directions to the course site, will specify if lunch is provided and any dietary requirements, and the equipment that may be required.
Your booking confirmation email only serves to confirm your booking and payment and the date and timings of your course. If you have any questions, please do not hesitate to get in touch with our team.
Courses offered may have pre-requisite qualifications. Please check individual course requirements on our website www.vmtltd.net for further details. Pre requisites will be listed under individual course requirements and it is the responsibility of the booker to check that all attendees have the necessary qualifications.
VENUE: Course held at one of our Northamptonshire training sites.