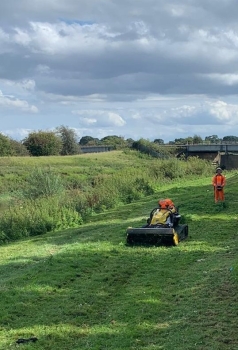 Learn how to use a Remote Control Mower. This course is designed for anyone working in the horticultural and landscape industry. This course gives you the skills and knowledge to develop your skills in your job role. We allow 1 day for training & assessment. Number of candidates per course: 4
During in this course, you will cover:
Comply with legal requirements, with an emphasis of safe practices

Identify the risks associated with the use of this type of machine

Select appropriate personal protective equipment (PPE)

Identify the controls and components

Understand the function of all instruments (if appropriate)

Carry out daily checks, as indicated in the operator's manual

Carry out appropriate pre-start checks

Identify and report any faults

Adjust the cutting mechanism to achieve the required standard

Operate the machine in a safe and competent manner

Perform after-use maintenance

Load and transport the machine (if appropriate).
After successfully completing this course you will receive a Certificate of Competence.
Please note that this training will take place on your own machine. You should bring the instruction manual and any tools necessary for maintenance.
Please bring proof of a full and in date LOLER inspection of all equipment.
Remote Control Mowers
Islip Training Centre
27th September 2023
Remote Control Mowers
Islip Training Centre
19th October 2023
You will need to bring:
Ear defenders
A form of photo ID either valid driving licence or passport.
Impact eye protection
Steel Toe Capped Boots with good Grip & Ankle Support
Non snag Clothing suitable for all weather as you will be outside
Gloves with Grip
Gloves to keep hands warm and reduce the effect of Vibration
High Visibility Clothing
Important Information:
Equipment required and information related to lunches will be sent to the booker by email 14 days before the course is to begin or as soon as possible if within 7 days.
Your email will contain directions to the course site, will specify if lunch is provided and any dietary requirements, and the equipment that may be required.
Your booking confirmation email only serves to confirm your booking and payment and the date and timings of your course. If you have any questions, please do not hesitate to get in touch with our team.
VENUE: Course held at our Islip Training Venue. Joining instructions will detail the exact location.